MADE TO MEASURE
We recommend that you do not round your measurements up or down to adjust your fit based on the silhouette of the item as it's displayed on the site. Trust us – our team understands the cut and pattern of our styles inside and out, so you'll always get the best results if you provide your exact measurements as they are. We also welcome an email from you with any special sizing or styling instructions for your order.
Before you start:
Keep your tape measure level and close, and don't pull it too tight.
If possible, have a friend or family member measure you – it's more accurate!
Be sure to measure over the undergarments you plan to wear when you wear the item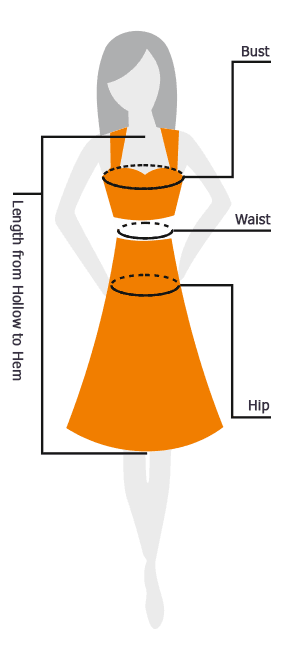 Length from Hollow to Hem
Measure from the center of the collarbone (Hollow) to the dress hem Note The length is not measured starting from the garment neckline
Bust
Not your bra size! Place the tape around your back and bring it across the fullest part of your bust. Your arms should be relaxed, down at your sides. You must wear a bra when taking this measurement.
Waist
This is the smallest part of your waist. Typically it is an inch or so above your belly button. Also known as the natural waistline.
Hip 
This is the widest part of your hip, across the hipbone. Measurement is taken approximately 7-9 inches below the natural waistline. This measurement is not needed for full gowns.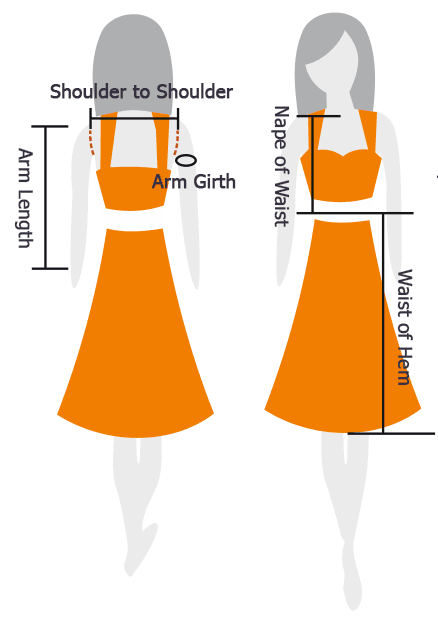 Arm Girth
Relax your arm and measure around the largest part of the upper arm.
Arm Length 
Start the tape at your shoulder down to your hand
Shoulder to Shoulder 
This is the width of your shoulder
Nape of Waist 
Measure from the base of the neck at the back to the Natural Waist
Waist of Hem
Measure from your Natural Waist to the dress hem. Note: The length is not measured starting from the garment neckline

Neck
Measure loosely around the neck. You will not need this measurement unless your dress has a high neck or collar
Length of Shoulder to Bust
Measure from the top of your shoulder to the nipple
Nipple to Nipple 
Measure across the bust nipple to nipple
Centre Back Length
Centre Back is the vertical Length taken from Centre Back Neck Point to the Waistline level
Bra Size
Bra Size is composed of two dimensions ; the band Size and the Cup Size